7/12/2012
HOUSTON – Day 1
As of day one of our outer space adventure, five team members – Simona, Christina, Alice, Danyelle and myself (Hannah) have arrived safely in Houston.  Additionally, all of our equipment has also arrived safely in Houston, including the $80,000 Field Spectrometer ("You are not checking the spectrometer.  Carry it on." – Selby) and, somewhat more astonishingly, the simulated Mars regolith containment box.  We were all a bit nervous – and by nervous I might actually mean terrified – because the fake Mars soil box looks less like one would imagine a piece of awesomely designed scientific equipment to look like, and more like a bomb.
(Pictured below: Not actually an explosive device).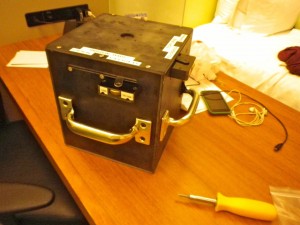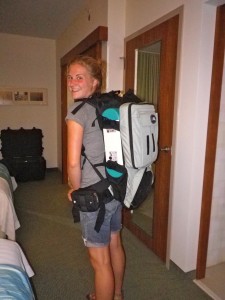 (Above: Danyelle.  And $80,000 in science form.)
However, armed with a letter typed up for our benefit by Dr. Pedro Marenco on the most official looking of Bryn Mawr College letterhead, as well as the blueprints for the box, everything made it through.  We collected our super classy seven-person van, and checked in at the hotel.  It is a mystery how all our suitcases and equipment will fit for the return trip.  Possibly the youngest members of our crew will be obliged to ride on the roof.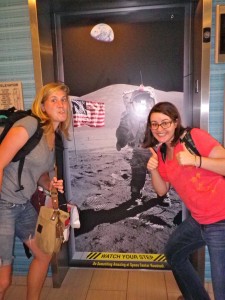 (Above: They can hardly contain their excitement.)
About two weeks ago, we received word that the program was now going to start on Monday and end on Friday.  Unable to change our flights, we now have three extra days of hanging around in Houston.  Likely we will use this time to prefect our spectrometer technique, further study the mysteries of the Hapke Model, and also eat (tonight: Tex-mex – Tomorrow: BBQ?).
Before this blog post concludes, we would just like to give a big shout out of thanks to Richard Willard at the BMC Machine Shop for helping us with the final design, as well as building the box.  We'd also like to thank Peter Mahr of Portland, OR, for his help with the initial box design.
Thanks!  More tomorrow!