Houston Day 5 – aka Official Start of Microgravity Week
6:15 am:  Awaken
6:50 am: Depart hotel for Johnson Space Center
6:53 am: Take wrong turn
6:59 am: Narrowly avoid death by freeway
7:20 am: Somehow manage to report ten minutes early (twenty minutes if going by "Bryn Mawr Time") to Johnson Space Center for badging and orientation!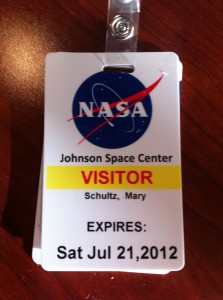 After we got our official badges (although the physical descriptions need a bit of work – apparently I am 6 feet tall and have brown eyes), we sat through physio-training.  All manner of potential health problems and issues were covered, including hypoxia, hyperventilation, and of course the most infamous: nausea.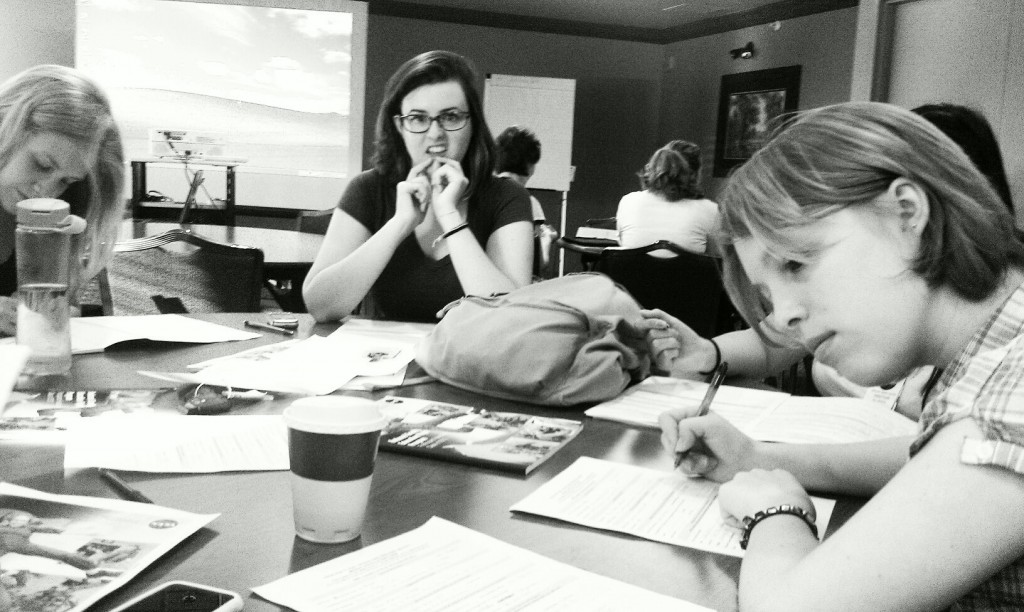 (They're already nauseous and they haven't even looked at the plane yet.)
Finally, we reported to hanger 990 in Ellington Field – our science home for the next week, and current resting place of the "old" DC9.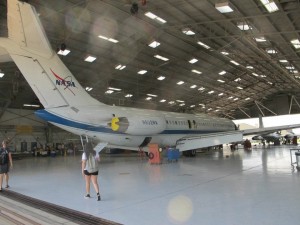 (Above: Rarely Seen Ancient Flying Device.)
There were more briefings.  Many, many briefings.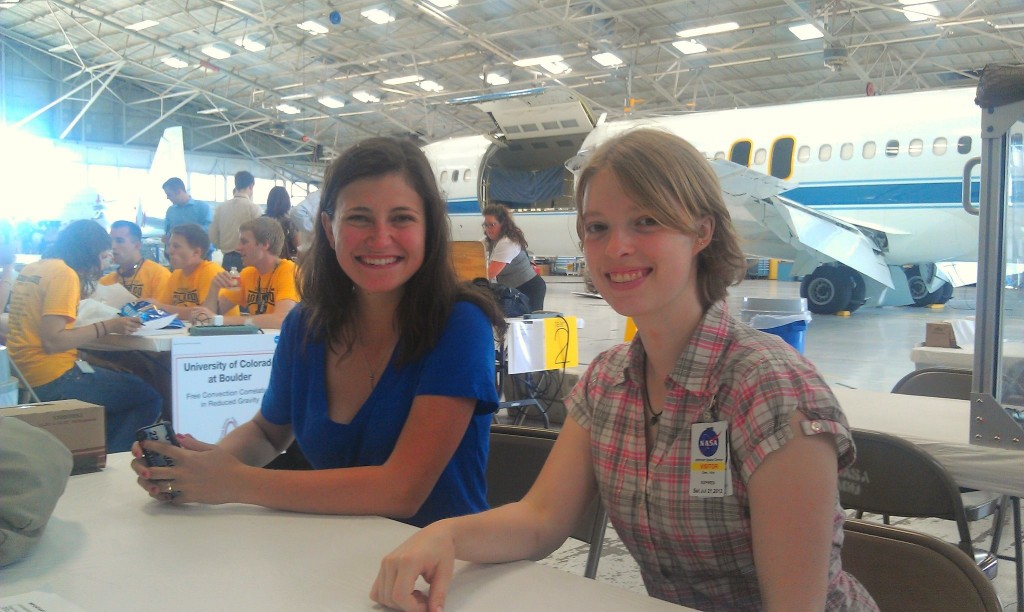 (We're smiling because if we don't then we're afraid they'll make us go to more meetings.)
In Summary:
1)   Never ever be late.  Ever.
2)   Keep track of all things.
3)   No, seriously.  Don't lose anything or we'll have to take the plane apart looking for it.
4)   You are here for research.  Not for play.
5)   No pictures of military goings on (They have guns).
6)   No self guided tours.
7)   The schedule is disturbingly dependant on the rather fickle entities of both weather and technology.  Be flexible.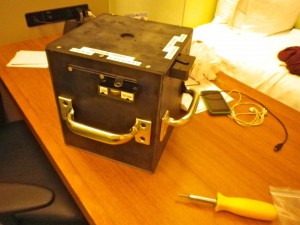 (The most dependable piece of equipment is the one that involves shaking dirt in a box.  I love science.)
So far, the plan is 4 parabolas in Lunar gravity, 4 in Martian, and the rest in Zero-G.
While part of the team were at various meetings of import, the rest of the team set up the equipment under the guidance of our extraordinarily patient NASA mentor, Tamra George.  In return for her kindness, we vow to feed her various unhealthy yet delicious snacks for the entirety of the week.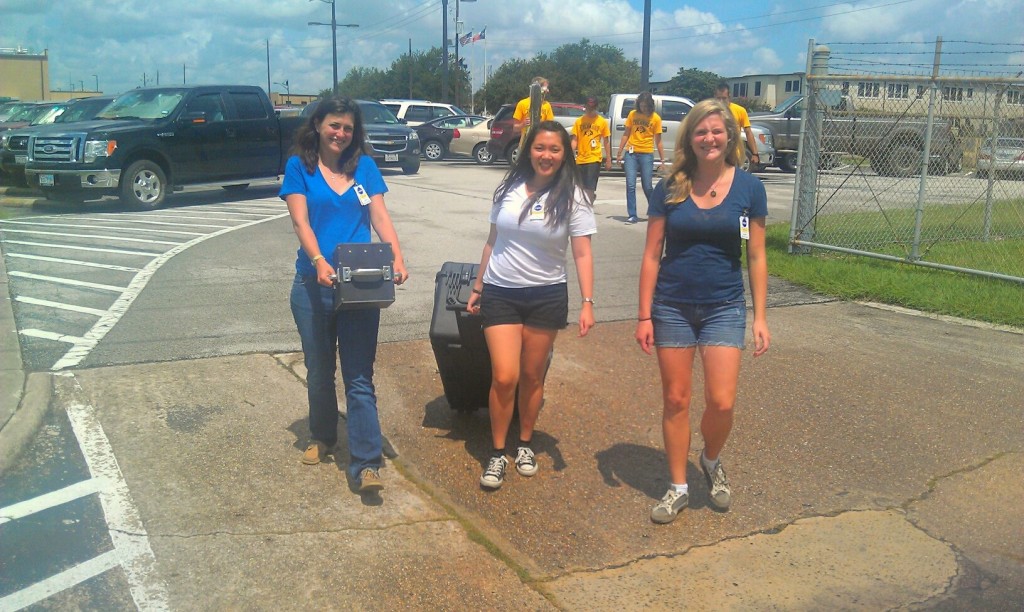 (Like Charlie's Angles except everything is 100% more breakable.)
We tested the probe and box combo, panicked over the brief life of the spectrometer batteries, fawned over the box, attempted to recall computer operations, and ate a whole pack of mint Oreos in less than five hours.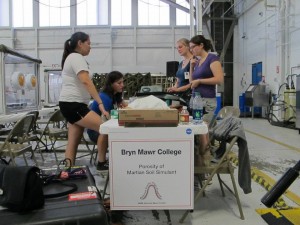 (Snacks not pictured.)
Around 4pm we packed up the spectrometer and the box, dropped them off at the hotel (after warning the management that they were, in fact, pieces of research equipment and not nefarious devices of mass murder) and headed off to a Meet Everyone Ever dinner at Bullritos.  We met the teams from UC Boulder, Utah State University, Deleware Technical and Community College, and the Pre-Service Teacher Institute.
Upon return to the hotel, we met again for a discussion of All Things That Might Go Wrong, and set out a game plan for tomorrow's Test Readiness Review (aka Is Your Experiment Going To Kill Us All) conducted by people with the power to ground our research.  Basically, If we don't pass the TRR, our experiment won't fly, so wish us luck!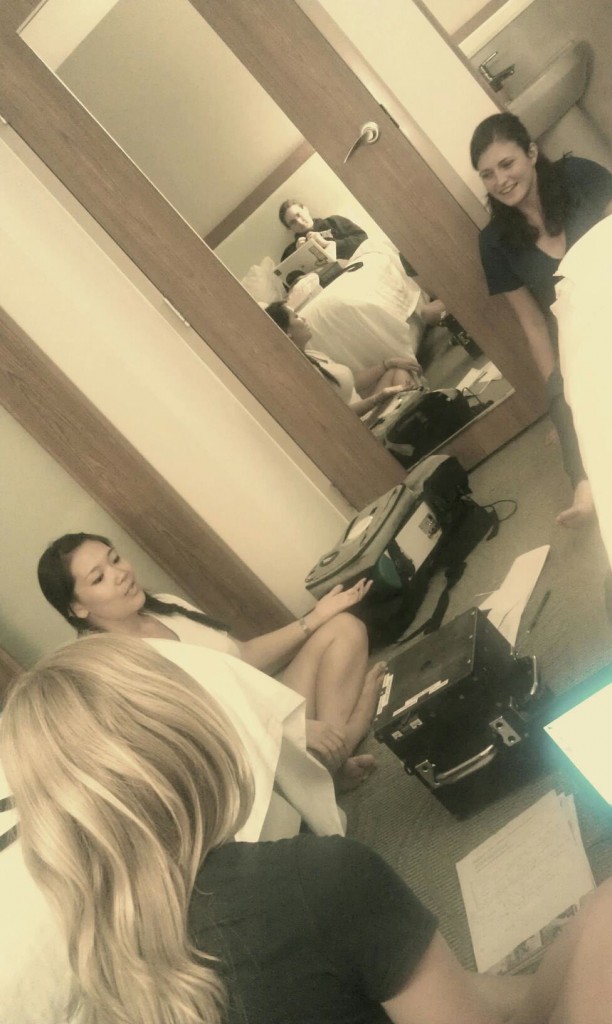 As always, thanks for reading!
-Hannah and the rest of the Microgravity Team